Reader Management Overview
Reader Management module consists of several functions that enable the identification, configuration and diagnostics of RFID Readers. These can be any number of supported Passive, BAP, or Active Readers supporting EPCglobal and ISO open air interface protocols. TagNet separates the Physical Reader layer from the business integration layer – enabling a common interface regardless of the physical characteristics of a given Reader.
Another important feature is Reader abstraction, that is, the physical reader layer is abstracted from the deployed 'logical' reader location. A business user would refer to say Dock Door #4 as a portal, not really knowing (or much less caring) what type of reader is actually there supporting that location. This lends itself well to swapping out readers as technology progresses, without introducing terminology changes to the business process. In fact this makes the technology (reader) layer somewhat transparent to the end-user.
Figure R1. TagNet Reader Page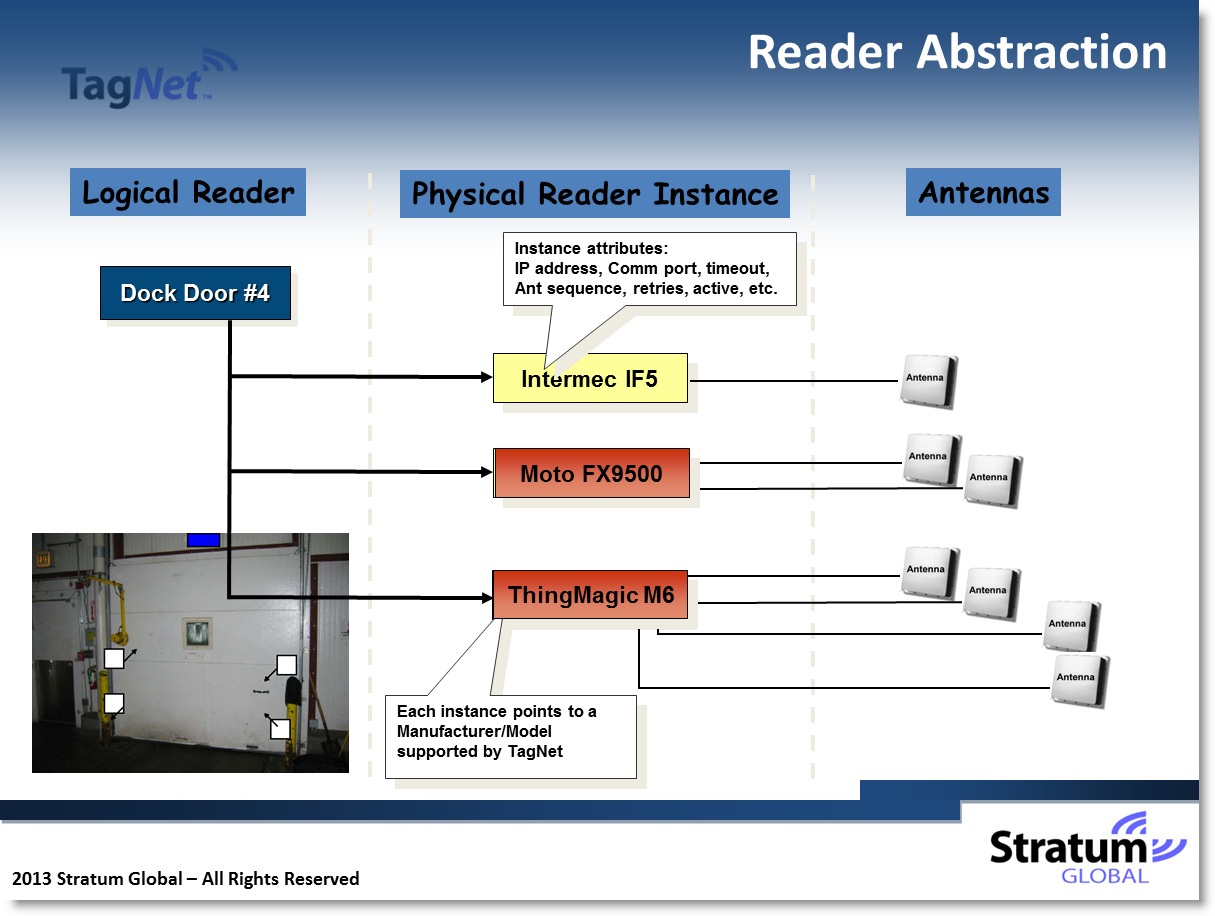 Normally it would be the IT or network group at a given company that would make the physical readers known to TagNet, and then link them to the logical location.
TagNet is agnostic to the Reader community as they are really seen as hardware commodities – such as printers to the Windows Desktop. You would expect any good OS to have 'drivers' for these, and as such, this is Stratum's approach in the RFID world. TagNet enables a 'plug n' Play' for reader support.
Currently all major reader manufacturer's (Zebra, Honeywell, Alien, Impinj, ThingMagic, etc.) have implemented the EPCglobal sponsored LRRP common interface across all their current reader platforms. With that said, the LLRP protocol allows hardware vendors to build their own 'extensions' to leverage specific features within their reader modules. TagNet supports those LLRP extensions as they are release to maximize the performance from a given reader platform.
Reader Management consists of the following functional areas:
 Manufacturer/Model
This table comes pre-shipped with those Readers that TagNet supports
 Physical Readers
Defines those physical readers that are known to your enterprise
 Logical Readers
Defines logical readers as defined by implementers. These are also known as 'Tag Reader Locations', 'portals' or 'read points'.
---
Copyright © 2023 Stratum Global, Inc.