Location Setup
What is a TagNet Location Matrix?
The Location Matrix represents a hierarchy of inventoriable locations for a given facility or plant. TagNet translates raw Tag read events into an inventory location via Movement Rules, this is referred to as 'maintaining Inventory state'. Some of your production reporting will look at this inventory state to determine where tagged parts are at any given moment and using the time in between locations as a station-to-station dwell factor, etc.
Since no two organizations have the same location schema's, there is a need to create a location schema that is tailor made to their environment. This function allows the user to create a hierarchical location schema for warehousing as well as general inventory & asset management.
With respect to warehousing, the location schema includes a location capacity feature which is reflected in the hunt rules logic (outlined in the Hunt Rules Section). This is also the foundation for the directed PICK, PUT and MOVE operations supported by the TagTrack Lift Truck application.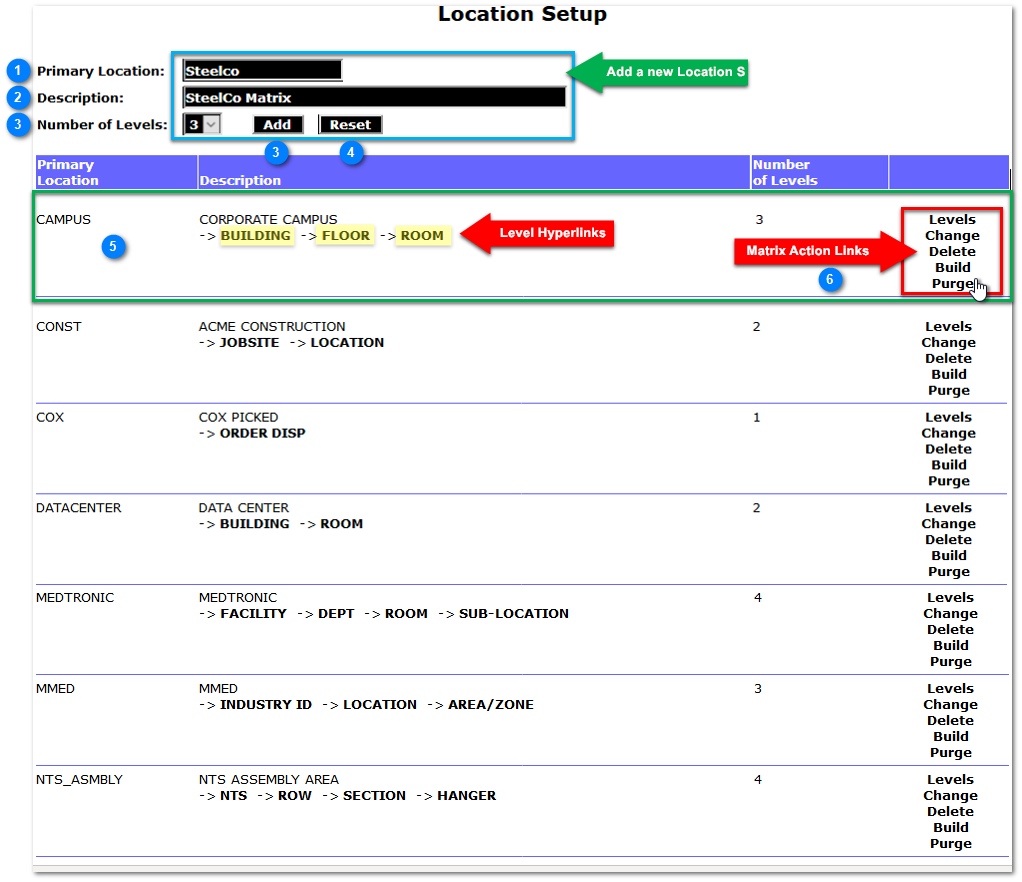 Primary Location

The user defined designation of the top level of the location schema. This typically represents the enterprise level (e.g. Company name) however can represent anything from a facility to a specific warehouse
Number of Levels

This dropdown is how many levels you would like to make in the location matrix (up to 4)
Reset

Clicking this button will clear in the input fields and reposition the list to the first alphabetical schema
Location Profile

This list entry indicates an occurrence of an Location matrix Schema. Use the Action links to further define its properties.

In the description area, below the Primary Location name, are the names of the Levels. Clicking on any of the level name hyperlinks will bring you to the Location setup page where unique locations can be created for that level
Action Links

These hyper-links perform the following functions (click each one to jump to that section)

| | |
| --- | --- |
| | Sets the names of the levels configured |
| | Change properties for a given Primary Location schema |
| | Removes the Location Schema from the system |
| | Creates level relationships based on the selected location levels |
| | Removes all the level relationships for the given Primary Location |
---
Copyright © 2023 Stratum Global, Inc.