User Defined Attributes Maintenance
This function enables a TagNet customer to define their own unique attributes for association with Assets, Employees, Tag Inventory or Users. This extends the capability of the TagNet Repository to hold more associative information based on different industry data requirements.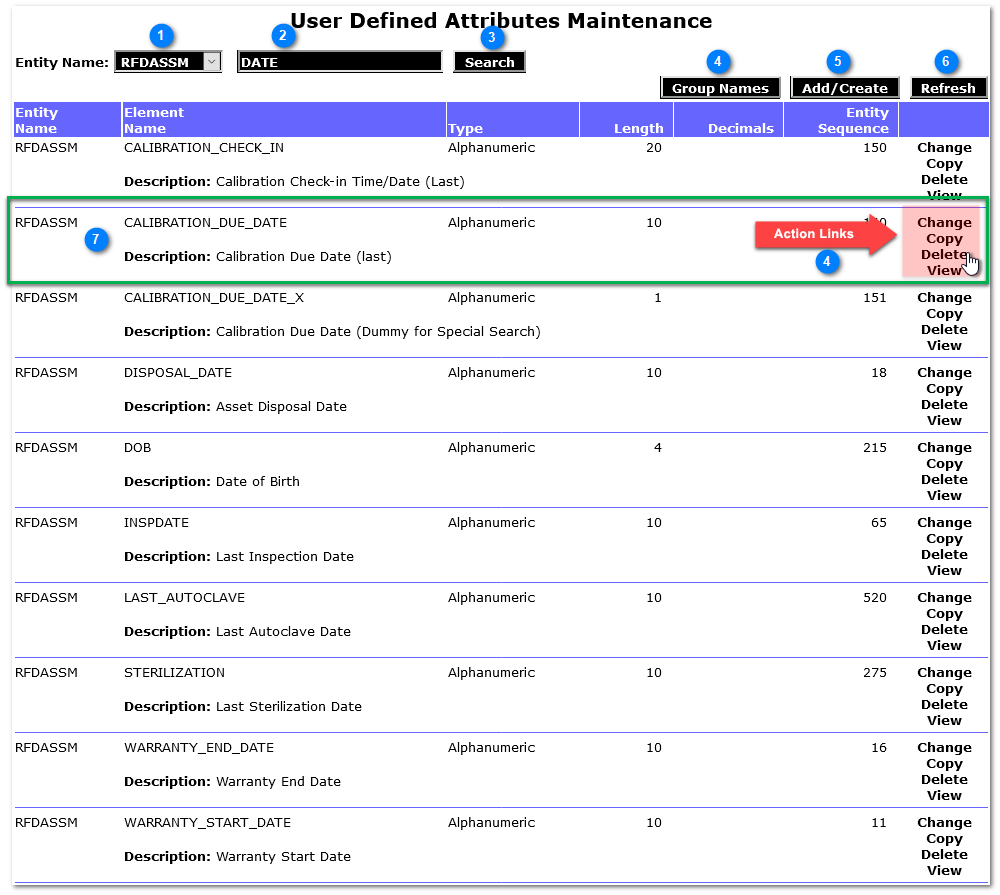 Action Links

These hyper-links perform the following functions (click each one to jump to that section)

| | |
| --- | --- |
| | Change properties for a UDA Profile |
| | Copy an existing UDA Profile as a quick way to create a similar profile |
| | Removes the UDA profile from the system |
| | Allows inquiry mode only on the UDA Profile |
| | Allows to group UDA's together for Bindings |
UDA Occurrence

This displays all the relevant Object Information for each UDA profile

Entity Name: – the file object name this attribute refers to (RFDASSM, RFDEMPLM, RFDLOCIN or RFDUSER)

Element Name: – The element (or attribute) name as defined by you

Type: – The type of attributes. Note: unless a starting serial number is entered this value will be zero.

ØAlphanumeric – field can hold both characters and numbers

ØSigned – number than can be either (+) or (–) values.

Element Length: – The maximum field size

Element Decimals: – The number of decimals associated with a packed or signed Element type

Entity Sequence: – The sequence in which this UDA will display in the UDA list when accessing maintaining Assets or Employees
---
Copyright © 2023 Stratum Global, Inc.