Scheduled Tasks
The purpose of this function is to allow you to define scheduled tasks that happen automatically such as import/export jobs between TagNet and other systems. This feature is enabled by selected the [Scheduled Task] in the dropdown from the 'Event Subscription' menu option. Shown below is the initial list page of Tasks previously defined: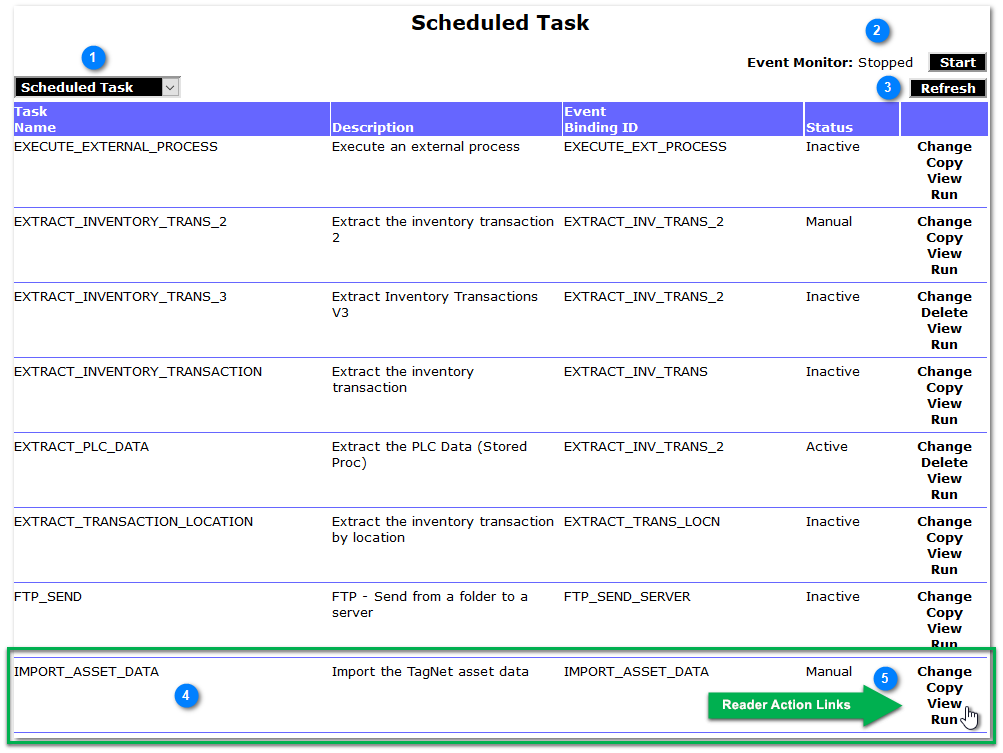 Subscription Type

This dropdown either selects the Event Subscription list or the Scheduled Tasks
Event Monitor

This button starts the Event Monitor Job that will manage the starting and stopping of reader schedules as configured. Note: if you have setup many schedules for testing purposes, ensure that the status is set to 'Manual or 'Inactive' or the monitor will kick-off many unnecessary jobs that could slow down the Server.
Action Links

These hyperlinks perform the following functions for each Logical Reader Profile
Note: only a 'Template' Task can be copied and cannot be deleted. A copied task cannot be copied but can be deleted.
Note2: for those Tasks where you don't want the Event Monitor to control them (such as change the Status to 'Manual'
---
Copyright © 2023 Stratum Global, Inc.