Logical Reader Location Profiles
The purpose of this maintenance function is to allow you to define Logical Reader Locations that are meaningful to users of the system. These might be names such as 'Dock Door_3' or 'Whse door east' or 'conveyor_1', etc. TagNet abstracts the Physical Reader layer (which can and will change) from the business layer where rules are applied in the Filtering and Collection module. Note that the business logic is at the Logical Reader Level so Physical Readers assigned here will be subject to the same Bindings assigned within the Event Subscription.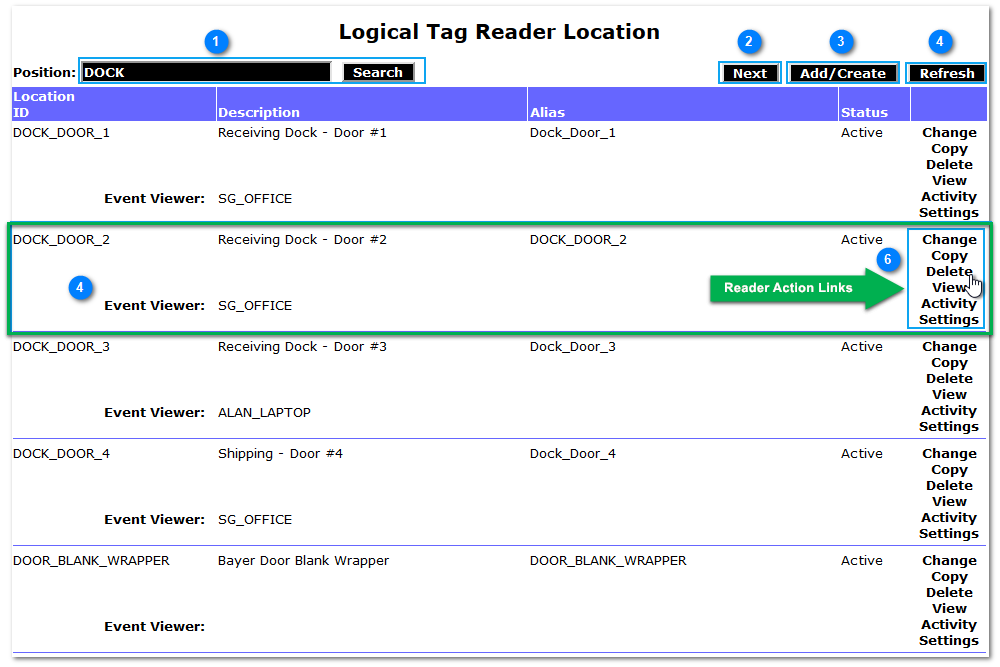 Position to

Entering a beginning value of Logical Reader name enables the list to be positioned to that point (saves paging)
Refresh

Clicking this button will refresh the page and reposition the list to the first alphabetical Logical Reader ID
Action Links

These hyper-links perform the following functions (click each one to jump to that section)

| | |
| --- | --- |
| | Change properties for a given Logical Reader profile |
| | Copy an existing Logical Reader profile as a quick way to create a similar profile |
| | Removes the Logical Reader profile from the system |
| | Allows inquiry mode only on the Logical Reader profile |
| | Brings the user to the Logical Reader Tag Activity screen |
| | Brings the user to the Logical Reader additional Settings screen |
---
Copyright © 2023 Stratum Global, Inc.