EPC Event History
The Inquiry function enables viewing of outbound EPC specific event history tied together with your Customer Order information. Its use is essentially driven around EPCglobal Compliancy so that a Supplier can provide a tight audit trail of all outbound tagged pallets or cases to a given Customer. This is a two step process; 1) as smart labels are produced the calling program will update the event history with the EPC#, Order#, time/date commissioned and other relevant data. Step 2) a portal would be setup in the shipping area or dock door and as tagged product is shipped; the tag's EPC number will be validated against the event history and updated with the ship time and date as well as the logical Reader ID. This provides irrefutable proof that the tag is 100% readable on its way out the door to your EPCglobal requesting Customer. Shown Figure H1 is a sample screen of data: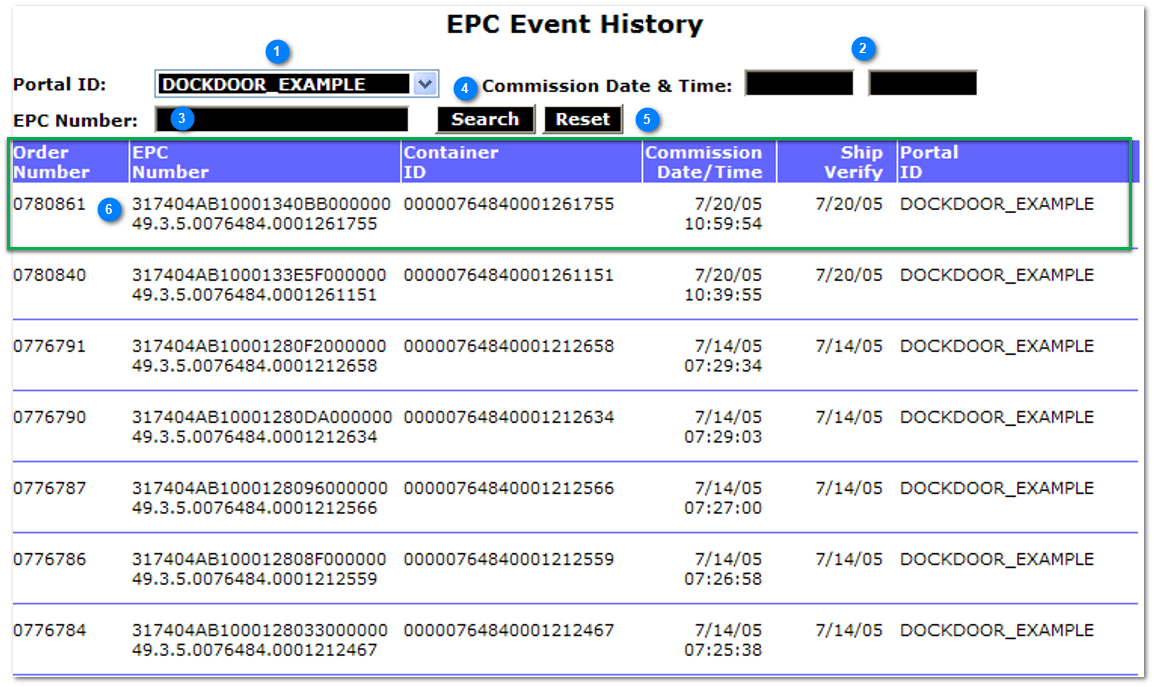 Search

This initiates a search based the filters entered above. If no filters are entered then the event history will be displayed in EPC order.
Event History Record

ØOrder Number: – The Order Number associated with this event

ØEPC Number: – The EPC Number that the Event is related to (e.g. a case SGTIN)

ØObject Information: – This includes a block of attributes within this column.

ØContainer ID: – The Container ID that the EPC number is a part of. (I.E a Pallet SSCC number that the EPC number is associated with)

ØCommission Date & Time: – This is the date and time the EPC number was made known to the system

ØShip Verify Date & Time: – This is the date and time the Tag passed through a portal triggering the event

ØThis is the name of the portal the event occurred at
---
Copyright © 2023 Stratum Global, Inc.