Category Code Maintenance
Thinking through and establishing your Category matrix in TagNet is important so that subsequent activities in AssetTrack modules such as searching and asset summarization will be best optimized for your organization. The Category Code Maintenance function is a Tree view showing parent/child relationships of category types as shown below. There is no limit to the amount of levels that a given tree can have but it is important to note that only the lowest level of a given tree can be assigned to a Base Item.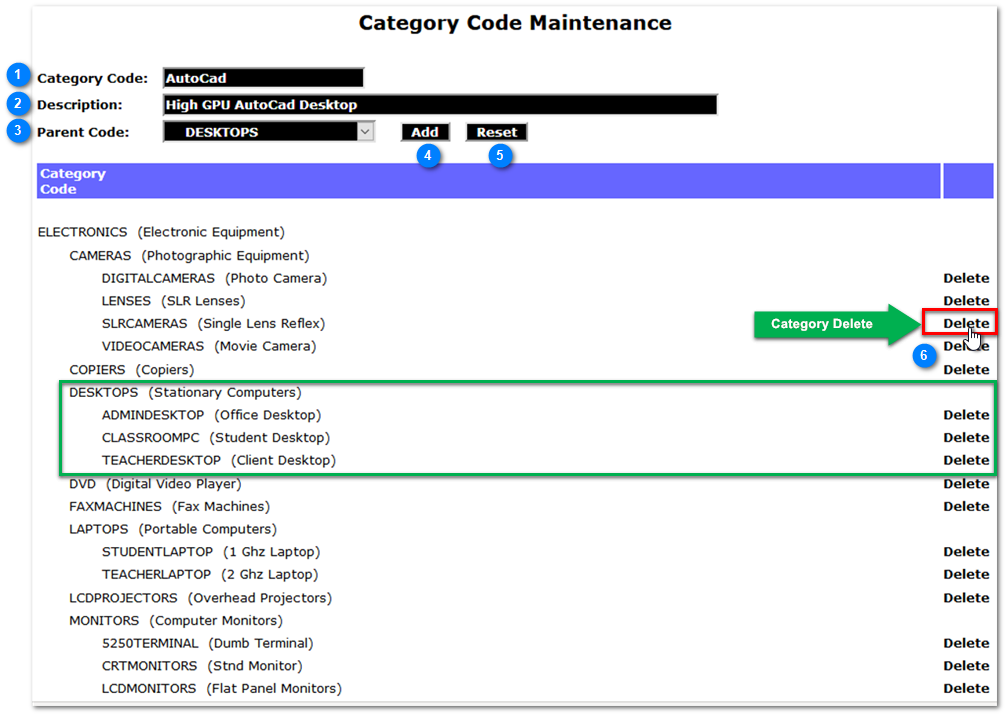 Category Code

The Category Code assigned by the end user. Depending on the depth of detail you would like to assign your assets, this could be a high level category (i.e. Electronics) or a category with no children (i.e. Furniture)
Parent Code

When creating nested categories, this is the next high level for the one being currently entered. For example, when creating "AutoCad" as the category code, "Desktops" would be the parent and when creating "Desktops", "Electronics" would be the parent.
Action Link

These hyper-links perform the following functions (click each one to jump to that section)

| | |
| --- | --- |
| | Removes the Category Code from the system. Note: if a wrong relationship is made then simply delete the category level and re-add with correct parent relationship. |
---
Copyright © 2023 Stratum Global, Inc.