Tag Activity Details
The purpose of this function is to allow you to view the tag activity of a selected schedule for Logical Reader.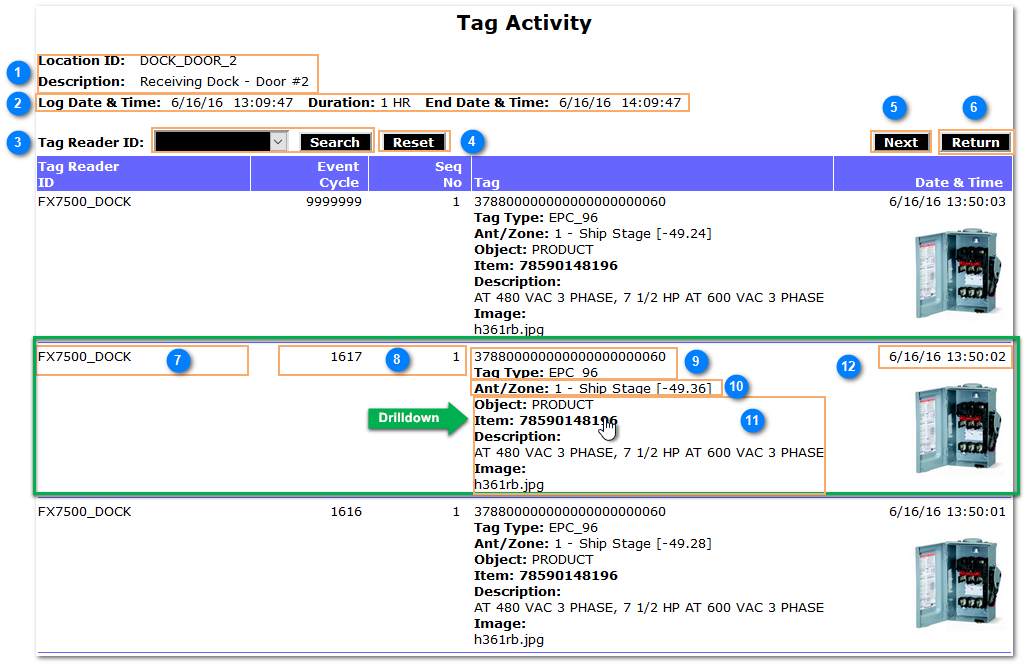 Tag Reader ID

A dropdown of those physical readers that contributed tag reads during that logging period. The [Search] button initiates the selected filter.
Reset

Clicking thus button will reset the list to the last/most current Tag read event for that schedule
Event Cycle & Sequence

The event cycle ID and sequence # of the tag within that given event cycle. When the schedule is started each read event cycle starts at '1' and increments from there. Within each read event cycle there could be one 1 or more unique tags read. There are two scenarios, 1) triggered and 2) untriggered. In scenario #1, a reader could be triggered to read for say 30 seconds by a sensor, if there were 12 tags read during those 30 seconds, there will be 12 sequence numbers (numbered 1-12) in the log associated with that read event cycle. In scenario #2, a reader could be reading constantly every 10 seconds (the read event cycle specified in physical reader), if there were 5 tags read during those 10 seconds, there will be 5 sequence numbers (numbered 1-5) in the log associated with that read event cycle. If there were no tags read, then the event cycle will not be logged and thus there could be gaps in the event cycle.

Note: a value of 9999999 indicates that when the schedule ended with DRO enabled, there were outstanding read events still being processed and these were logged after the scheduled had actually ended.
Tag ID

The EPC (Electronic Product code) and EPC Type read off the tag. This is also referred to as the 'Tag ID' in layman's terms or the Tag's 'License Plate'.
Ant/Zone

This specifies the exact antenna ID or Zone that reported (saw) the tag, and its antenna name. Optionally if the RSSI feature is enabled, it will log the RSSI value of that tag read event.
Object Details

The Object Type mapped to the tag, there are (4) types; PRODUCT, ASSET, GTIN, LOCATION. The Object Type will have an Item # and Description as well as an associated image (if specified). Note: Both the Object ID and image will have hyperlinks to its Object details.
Date & Time

The exact date and time of the Tag read event. Note this would be at the end read event cycle (e.g. 5 seconds)
---
Copyright © 2023 Stratum Global, Inc.